As a remote company who work from home, we advocate the many benefits (in our opinion) of the WFH life. We LOVE working from home and do not believe it has a detrimental effect on the quality of work. No doubt, working from home can be lonely. Thankfully, some tools bridge the gap between remote and in-person work.
Most of our team have worked from home full-time for years. The work/life impact affords us opportunities to do things we would find challenging in a traditional setup. By traditional, we mean Monday-Friday from 9am to 5pm in an office.
The world was forced to work from home in March 2020 (thanks Pandemic!) and many found themselves in unfamiliar territory. Having to juggle full-time work with kids/housemates/pets among many other distractions. Working from home takes a fair amount of self-discipline and a period of change.
Now that the world is (mostly) out of lockdown, the debate rages on: should continue to work from home?
This (now deleted) viral post from a recruitment agency owner in the UK sparked outrage on LinkedIn. Many found it archaic and divisive.
It made national headlines across many publications, including Daily Mail, The Mirror, The Times, Metro, The Sun, and Human Resources Director.
People flooded the comment section to defend the right to work from home. Despite the OP's insistence that it was "a joke", his post highlighted a negative viewpoint about working from home. One that is very real among a lot of companies.
The OP did make one good point in his (many) comment retorts. He mentioned the effect working from home had on local businesses and the economy. If we're all working from home now, who will keep the independent sandwich and coffee shops afloat? We live in an era where people use services such as Deliveroo, Uber Eats, DoorDash, Postmates, Seamless, GrubHub, ChowNow, et al. These not only keep local business flowing but also provide jobs to delivery drivers. Anyway, we digress…
There is a distrust around people's productivity when working from home. In our experience, remote work enables people to focus on what matters most to them. Whether that be children, disabilities, mental health, school, hobbies, or looking after a loved one. All without the need to compromise their career or their quality of work.
In our experience, happy people do great work. There does seem to be an irrational fear surrounding allowing your teams to work from home. This fear, highlighted in the aforementioned LinkedIn post, and headlines such as this from The Guardian:
Bosses turn to 'tattleware' to keep tabs on employees working from home
Horrified is the word we'd use to describe our reaction to this. If you distrust your team so much that you're willing to spy on them, then why are you trusting them with the success of your company's future?
In our opinion, you don't need a 40-hour 5-day work week to ensure your team is at peak productivity. It was Henry Ford who introduced the five-day, 40-hour workweek – back in 1926! That's almost one hundred years ago. Times have changed.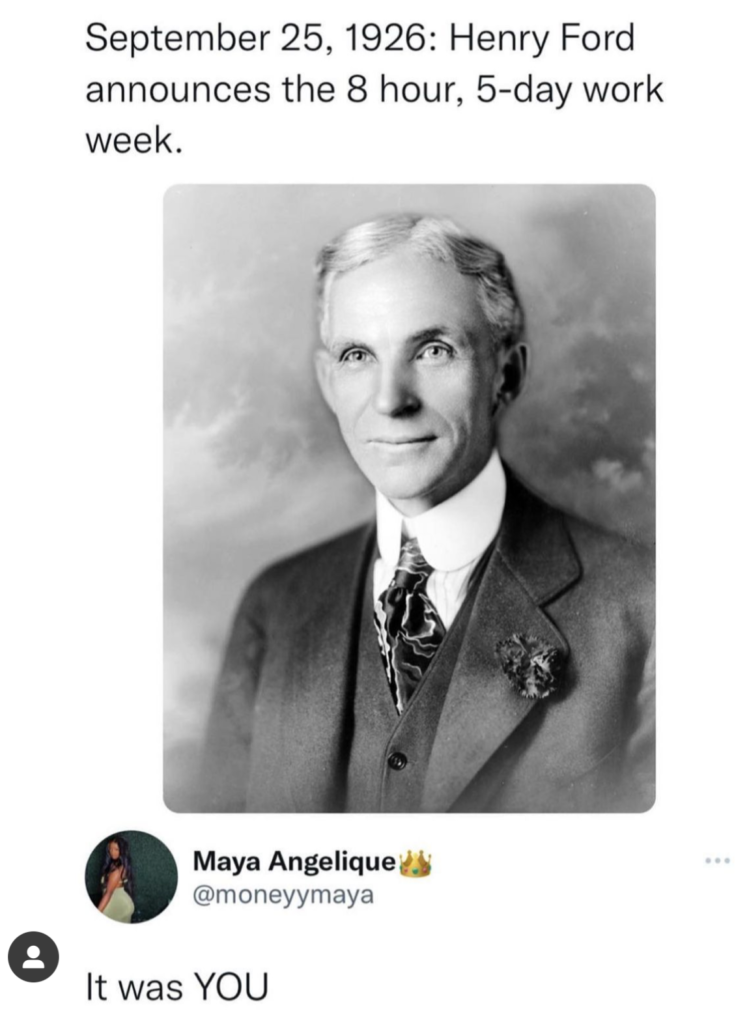 If you want to measure work from home productivity, it's simple:
Judge your team based on their output!
Hear us out: if we spend less time dictating when people work and in what environment, we can spend more time supporting their professional goals, skill learning, and mentoring them to be the best they can be.
Of course, there will always need to be some structure to the day. Client meetings, team calls, and real-time communication all need timezones to sync for a part of the day. But that doesn't need to be the same 8-hours as each other, week in, week out.
The plethora of tools available streamlines the project management and communication process. If you want to work from 10am – 3pm because your kids are in school, that's fine with us. As long as you produce great work and are responsive, you do you!
The distrust and antiquated working style will always be a head-scratcher for us. That's why hiring for work ethic and attitude trumps all other skills (to a reasonable degree). Our clients feel delighted by our work, and as a company founder, I'm proud of the team we have built and the rapport we have.
We work to live, not live to work, but that doesn't mean you're a lazy sloppy employee. Not by a long shot!